Doug Miller
Senior Pastor
William Douglas Miller was born in Dallas County, Texas and spent the first 12 years of his life in Garland, Texas. His family relocated to a rural area south of Farmersville, Texas in 1963 and Doug graduated from Farmersville, Texas in 1970. Doug began his college years at the University of Texas at Arlington and went to work for the U.S. Post Office that same year. Doug met Sally in 1972 and they were married in 1973. Sally graduated from East Texas State University and began a career teaching school while Doug pursued his career in the U.S. Post Office until 1978 when Doug experienced a call to Christian ministry. Doug returned to college and graduated from East Texas State University in 1980 with a B.S. in Psychology and a minor in General Business. Doug is an avid sports fan who has enjoyed hunting and golf through the years as his favorite hobbies.
Doug began his pastoral ministry in 1978 in the small communities of the North Texas Annual Conference as a student local pastor. In 1981, Doug and Sally, with their first child, Sarah, moved to the Wilmore, Kentucky area where Doug earned his Master of Divinity degree from Asbury Theological Seminary. In 1984, Doug and Sally returned to the North Texas Conference and Doug was ordained Elder in 1986. Their second daughter, Rachel, was born in 1987. Doug served the following congregations as a student pastor: Callisburg UMC, Gordonville FUMC, Westview UMC, Ector FUMC, Ravenna UMC, and Mulberry UMC, in Texas and Dunaway UMC in Trapp, Kentucky. After seminary, Doug served the following churches: FUMC Celina, Senior Pastor 1986-91; FUMC Bonham, Senior Pastor 1991-96; FUMC Paris, Senior Pastor 1996-2004; FUMC Frisco, Senior Pastor 2004-2013; and FUMC Carrollton, Senior Pastor 2013-Present.
His ministry has been characterized by a love for the people, by spreading the gospel, and growing the church, and by being active in the communities he served. Doug led the congregations in Bonham, Paris and Frisco through major building projects and capital campaigns to fund the projects. Doug has also served the North Texas Conference through the years on District Boards of Ministry, the Conference Board of Ordained Ministry, the Insurance Commission, and the Council on Finance and Administration.
Cindy Palmer
ASSOCIATE PASTOR
Cindy grew up in Dallas, and regularly attended a small United Methodist Church in her neighborhood. At the age of thirteen she began to understand her need for a personal relationship with God, and prayed to receive Jesus as her Savior. She was very active in her youth group, and loved helping at the church whenever possible. It was during these years that she began to think about working in a church.
Cindy graduated from Dallas Baptist University with a Bachelor of Science degree in Psychology. She then graduated from Perkins School of Theology with a Master of Religious Education in 1983.
Cindy served at Tyler Street UMC for six years, working with adult and children's ministries. She was the Minister of Education at First United Methodist Church Carrollton from 1984-1991. After staying home with her children while they were young, she assisted the missions pastor at Hillcrest Church, helping to organize and encourage short term mission trips.
She returned to serve at First Methodist Carrollton in the spring of 2012 in communications and congregational care. Cindy was appointed to be a local pastor here in December 2014.
Contact .
Chiv In
Associate Pastor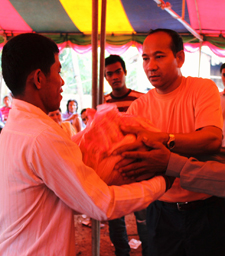 Chiv was born in Cambodia, and emigrated to the United States as a teenager after escaping from the Khmer Rouge's Killing Fields. He never planned to return to Cambodia, but he didn't anticipate God's call on his life, either. God called Chiv into ministry, and shortly after he joined First Church, he found himself returning to Cambodia with the missions pastor to share the gospel. It became clear that God's hand was upon the ministry in Cambodia. Five years after that first trip, five churches have been planted and the gospel is flourishing in regions that were previously unreached.
Chiv has a unique role at First Methodist Carrollton. He serves as a quarter-time associate pastor, and he is involved in our Sunday morning services whenever he is in the country. He also serves as the senior pastor at the Cambodian United Methodist Fellowship of Carrollton, also in a quarter-time position. The remainder of his time is spent with his ministry, Heart for Cambodia. Chiv is involved in long distance discipling of the church leaders each week and also takes multiple trips to Cambodia each year to disciple the churches and help them reach out to surrounding areas with the gospel.
Chiv completed his Bachelor of Science degree at Franklin Pierce University in Rindge, New Hampshire. He has also completed the Course of Study with the North Texas Conference and Perkins School of Theology. Chiv is married to Emara, and they have made their home in Carrollton. They have been blessed with many children and grandchildren.
Contact .
David Bales
MUSIC AND ARTS DIRECTOR
Classically trained in voice, piano, composition and conducting, David Bales also holds a deeply personal passion for new and emerging music of the faith. His commitment to weaving music from diverse source into corporate worship is demonstrated by over two decades of effective service and ministry in the local church.
David was born into a home in which both parents were accomplished musicians and educators. His journey into ministry begins with his father's call to full-time pastoral ministry when David was only five years old. Three years later, David experienced a call to ministry himself. Inspired and encouraged by his parents' godly heritage, David has whole-heartedly given himself to lifelong pursuit of music training and ministry.
While he was pursuing degrees in Music Theory and Composition at Hardin-Simmons University, he was involved in music ministry in local churches and also led worship at camps and conferences around the country. Along with his wife, Sarah, and their children, David moved to the Metroplex to help plant a new church in Keller 10 years ago and has served on staffs of both Methodist and also non-denominational churches in the area.
With a sincere passion for using music - ranging from J.S. Bach and R. Vaughan-Williams to John Mark McMillan and Joel Houston - to inspire and express worship, David continues to champion the merits of historically recognized and newly emerging styles of music. While faithfully pursuing the call to serve and lead in the local church, David also takes seriously the responsibility to mentor and train future generations of musicians and artists to love God and bring glory to His name.
Contact
Rebecca Carpenter
ADMINISTRATIVE ASSISTANT
Rebecca and her young daughters joined First Methodist Carrollton in 1985. She met her husband Bob in the singles ministry here, and they were married in 1994. Rebecca joined our staff in 1991 and has worked with Evangelism, Youth, Education, and Membership. She oversees the wedding scheduling and office equipment.
Rebecca's involvement with the youth has been a rewarding one for both Rebecca and the young lives she has impacted.
Bonnie Downing
ASSISTANT TO THE SENIOR PASTOR
Bonnie was born and raised in Dallas, and her family came to First Methodist Carrollton when she was 11 months old. She asked to join as a full member when she was 7. Her passion is her family, and she's so glad to be working in a place where her preschool twins, Steven and Eleanor, can play and learn at MDO in the same building.
Bonnie participated in the fencing club and in musical groups as a singer and harpist while she was at Baylor University. She graduated in 2003 with a BA in English, and worked as a copy editor and proofreader for 10 years before joining our staff. She loves to read, loves all kinds of crafts – particularly paper crafts and embroidery, loves to sing in the church choir, and loves British TV shows.
Cindy Johnston
CHRISTIAN EDUCATION DIRECTOR
Cindy believes her call into ministry is best described by her life verse which is Matthew 6:33, "Seek first the kingdom of God and His righteousness and all these things shall be added to you." In seeking to yield her life to Jesus in all aspects, it has been an adventure to trust Him and follow in the way He leads. Through her years in college, this was especially true for her. God clearly opened doors and closed others, leading her to attend seminary and serve Him through the local church. She loves what she does and has a special passion for the children and assisting them in growing in their knowledge and experience of knowing Jesus as real and powerful in their lives.
Cindy earned her Bachelor of Arts Degree in Education from McMurry University in Abilene, Texas, and her Master of Arts in Christian Education from Asbury Theological Seminary in Wilmore, Kentucky. She served in other Methodist churches in the area of Christian education and joined the staff of First Methodist Carrollton in 1990. Cindy oversees adult classes, the women's ministry, and the children's ministry.
She is married to Tim Johnston, who, as an educator, shares her passion for discipling our children. He is an assistant principal at a high school in Plano. They have two grown children, Timothy and Allison.
Mary Kleypas
VOLUNTEER RECEPTIONIST
A member of First Methodist Carrollton since 1963, Mary found it a joy to sing in the choir from the time she joined until 2003. Singing was her way of serving our Lord.
Mary was born in Dallas and has lived in Carrollton since 1962. She has worked at the church since 1995, greeting visitors, answering phones, and managing our scheduling and office supplies. Mary has three grown children, Lois, Gordon, and Lisa and two grown grandsons, Austin and Stuart Werner.
Mary shares that "The Lord is not only my Shepherd - He is my dearest friend."
Lauren Shirley
communications / technical DIRECTOR
Lauren Shirley was born and raised in Carrollton, and she graduated from Carrollton Christian Academy in 2009. She received her Bachelor of Arts in 2012 and her Master of Arts in Theological Studies from Dallas Baptist University in 2015. Lauren has served on church tech teams since 2001, and led technical volunteers at other churches before joining First Methodist Carrollton in 2009. She came on staff part time in 2011 as the Media and Technical Director, and became full time staff in 2013 when she was asked to become the Communications Director as well.
Lauren wears a lot of hats, including the service producer on Sunday mornings, coordinating the service details and volunteers. She is involved in the preparation and creation of media elements for weekly services, and oversees digital and print communications for the church. Lauren is passionate about seeing the global Church communicate the gospel with creativity and excellence, and she enjoys the variety of ways she gets to serve and implement that vision at First Methodist Carrollton.
Greg Swindle
Audio Engineer