First Methodist Carrollton charters three Boy Scouts of America Scouting units: Pack 121, Troop 121, and Crew 121. The Boy Scouts of America is one of the nation's largest and most prominent values-based youth development organizations. For over a century, the BSA has helped build the future leaders of this country by combining educational activities and lifelong values with fun. Scouting helps youth develop academic skills, self-confidence, ethics, leadership skills, and citizenship skills that influence their adult lives. The mission of the Boy Scouts of America is to prepare young people to make ethical and moral choices over their lifetimes by instilling in them the values of the Scout Oath and Law.
Our Cub Scout program is a fun and educational experience concerned with values. Besides providing a positive place where boys can enjoy safe, wholesome activities, Cub Scouting focuses on building character, improving physical fitness, teaching practical skills, and developing a spirit of community service. Pack 121 is an energetic Pack that offers a variety of events and learning experiences. We race pinewood derby cars, camp, play games, shoot BB guns, learn new and exciting skills and much more. Our Pack also participates in the local community and gives back by donating our time to cleaning up the property of First Methodist Carrollton. No matter what grade your son is in, first through fifth, Cub Scouts is a blast!
Learn more about Pack 121 by visiting their website, http://cubpack121.org/
Boy Scouts, Troop 121
Scout Master: Jeff Goodrich, tscoutmaster121@gmail.com
Troop meetings are every Monday at 7 p.m. in the Fellowship Hall for boys ages 11 – 18
Our troop was established in 1950 and is a scout-led program emphasizing character, leadership, citizenship, mental & physical fitness, love of the outdoors, serving the community and having loads of fun. We have thirty active Scouts and ninety-six of our Scouts have achieved the rank of Eagle. Our adult leaders, 6 of whom are Wood Badge trained, are experienced and committed to providing a quality and safe environment. We offer a top-notch Trail to First Class program for new scouts entering the troop. The program quickly immerses the boys in scouting values and skills while assisting them to attain the First Class rank within 12-18 months. In addition, the Scouts of Troop 121 camp ten weekends every year, attend a week long summer camp and have a high adventure trip each year.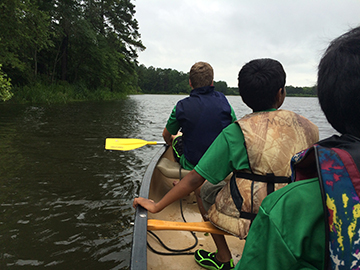 Learn more about Troop 121 by visiting their website, http://scouttroop121.com/.
Venturing, Crew 121
Crew Advisor: Dennis Muller, dennis.muller@verizon.net
Crew meetings are every first and third Sunday at 2 p.m. in the Parlor for boys and girls ages 14 – 21
We are a young co-ed Crew established in 2015. Venturing is a unique program in which the members choose, plan and execute the activities which are based on high adventure and community service. Our Crew have gone on activities such as rock climbing, visited the JFK Memorial, kayaked down the Guadalupe River and on another camp out we did rifle shooting with large caliber rifles. We also have our own sailboat, which we spend time refurbishing.
Learn more about Crew 121 by visiting their website, http://crew121.org/index.html.