We want our FIRST Kids ministry to be a place where kids meet Jesus, know His love, and have fun while learning to be more like Him!
"We will not hide them from their children; we will tell the next generation the praiseworthy deeds of the Lord, his power, and the wonders he has done." - Psalm 78:4
Sundays
First Kids Nursery
We minister to the little ones from infants through age 4, as well as to their parents, providing loving and safe care for our children. Childcare for our littlest ones includes teaching and music as we meet their spiritual and physical needs with Bible stories, fresh diapers and goldfish.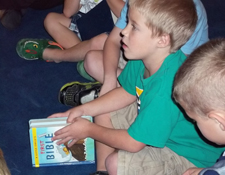 First Kids: Grades K-4
First Kids classes are offered at 9 a.m. for all children. Children are to be picked up at 10 a.m. to attend the Fellowship Time in Fellowship Hall with their parents. Children in grades K-1 may attend classes at both hours, and different lessons are provided at the two sessions. Children in second grade and up attend Sunday school class at 9 a.m. and then attend Worship with their parents at 10:30 a.m. For more info contact Cindy Johnston.
END Zone: grades 5-6
These "tween-agers" have their own special classes where the boys meet separately from the girls for the hour. In both a teaching and sharing setting, the goal is "Equipping New Disciples." These young people explore the Bible and relate it to their own lives and learn what it means to walk with Jesus. Class meets at 9 a.m.
Special-Needs Class at 9 a.m. has been faithfully led by Linda Akers. See Cindy Johnston about the opportunities for a special-needs child.
Wednesday Nights
FIRST KIDS NURSERY
First Kids Nursery ministers to the little ones from infants through age 4, as well as to their parents, during Wednesday Night Recharge.
FIRST Kids: Grades K-4
Kindergarten - fourth graders begin the evening at 7 p.m. in the FIRST Kids room. Our younger elementary-aged kids are grouped by age into small groups where an adult leader teaches a lesson, facilitates discussion and explores application in their lives. And it wouldn't be First Kids without some games to start the night out! This has become the highlight of their week! Cindy Johnston coordinates this fun group.
END ZONE: Grades 5-6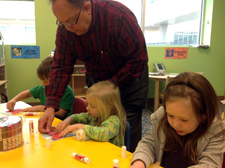 Led by our END Zone adult leaders, fifth and sixth graders learn to trust Jesus and His Word in the midst of challenging life circumstances. Filled with guidance and encouragement, END Zone addresses themes common to this age range. It wouldn't be END Zone without some game time in the gym for fun and interaction with friends. END Zone meets each Wednesday night and continues through the summer offering a time of fun and games, as well as Bible study. The summer months include outings and socials so that this group of young people can make friends within their church family and be ready to move into the youth group upon entering seventh grade.
AND THERE'S MORE!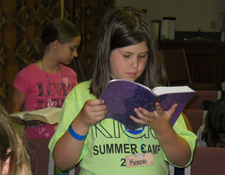 Camps - Our Elementary children participate in First Kids Camp. The camp is for all children who will be entering grades 3-6 in the coming school year. Contact Cindy Johnston for more information and registration materials.
Confirmation Class is offered to 6th grade students in a six-week course and weekend retreat each Spring, introducing them to the foundations of the faith and encouraging a personal application. Contact Cindy Johnston for more information.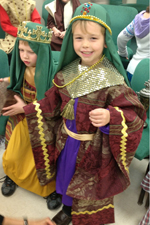 Vacation Bible School is offered for a week during the summer to the children in the community. VBS is held in the evenings to better facilitate the participation of working families and their children. Each evening will have lots of fun in games and activities as well as crafts and Bible teaching. Evenings from 6:45 – 9 p.m. Contact Cindy Johnston for details.
For First Kids Nursery, contact Jenn Magill.
For First Kids, END Zone and special needs contact Cindy Johnston.
For Children's Worship Arts, contact Dedra Rainey.
Learn about our MinistrySafe protection and campus security here.
Upcoming Events