The best way to get connected at First Methodist Carrollton is to join one of our Sunday classes or small groups. It's not just about learning more things about God, but living life together in community as we strive to be more like Jesus.
Learn more about classes on Sundays, midweek, and small groups.
Sundays Classes at 9 a.m.
M = Main Church Building (2201 west building)
E = Education Building (2205 east building)
EARLY CHILDHOOD - Ages 2-4, First Kids Nursery
All of our children's classes on Sundays use lessons from The Gospel Project, a fun way to learn about the whole Bible with songs, games, and stories. A lesson is presented at both hours, reinforcing the same story in two different ways.
FIRST KIDS - Grades K-4, First Kids Clubhouse
All of our children's classes on Sundays use lessons from The Gospel Project, a fun way to learn about the whole Bible with songs, games, and stories.
END ZONE - Grades 5-6, M219
On Sundays, END Zone meets for Bible study, prayer, and discussion.
YOUTH - Grades 7-12, Youth Room
The youth gather together in the youth room for announcements before splitting into high school and middle school groups.
GENERATIONS - All ages, room M223
This group enjoys learning from and studying the Bible with friends at different places in their lives. Couples, singles, and individuals attending without spouses are welcome. Leaders: Lindy & Lindsey Thomas
BELOVED DAUGHTERS - Women, all ages, Prayer Room
As Beloved Daughters, we will study God's Word, grow our faith, and to get to know our Father better. Teacher: Grace Stewart
SPECIAL EDUCATION, room M118
A class adapted for those with special needs. Please make a prior reservation by calling 469.568.1240. Teachers: Linda Akers and Susan Sublett
PURSUIT - Young Adults, room M230
This is an informal gathering of young adults and college students. We study the Bible on topical and relevant issues. Teachers: Nancy & Phil Golden
LIVING WATER - Age 20s-30s, room E208
This is a new class, aimed especially at young couples new to church. Join us for group discussion and friendship. Teachers: Chad & Sarah Herron
REVEAL - Age 20s-40s, room E209
God will reveal Himself through the Word, study, and prayer as we reveal ourselves. For married and singles. Teachers: Brandon & Rachel Knight
FOUNDATION - Age 20s-40s, room E206
Basic discipleship teaching for young couples and singles. Teachers: Jon & Denise Beckman
COVENANT - Age 30s-40s, room M228
This class studies the Bible and life applications changing topics every 6 weeks or so. We have social events roughly every 2 months. Teachers: Christie & Mark Wyatt
JAMES 1:22 - Age 40s-60s, room M220
Study of God's Word for those who want to be "doers of the Word and not hearers only." Teacher: David White
PRAYER WORKSHOP ACTS 2:42 - Age 40s-60s, room E108
This class will provide you with an opportunity to learn and practice Biblical prayer and discipleship. Teachers: Shirley & Scott Grigsby
KOINONIA CLASS - Age 50s-60s, room M229
From the Greek word for "fellowship" - a strong loving fellowship whose desire is to apply the Bible to our daily lives. Class begins with a short praise and worship time and prayer requests. This class meets practical and spiritual needs of its members and others. Teacher: Nathan Griffin
FAITHBUILDERS - Age 50s-60s, room E205
Adults participating in an interactive teaching class. The topic varies each week, with a focus on building and sharing our faith in today's world and applying the Bible to our daily lives according to Galatians 2:20. Teacher: David Roelke
PAIRS 'N SPARES - Age 60s and up, Church Library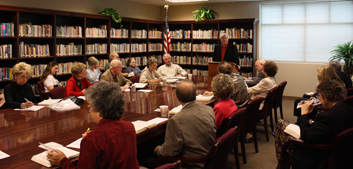 A Bible study class that incorporates both lecture and discussion, followed by a time of prayer. If you enjoy in-depth Bible study with practical life applications with others in a close fellowship, this is the class for you. Teacher: Scott Smith
ROOMSEEKERS - Age 70s and up, room M222
This large class offers a strong sense of belonging to a smaller group with guided Bible study. This class takes time to address members' concerns and enjoys social activities. Teacher: Sue Smith
Midweek

Community Life
Join us on Wednesday nights from January 11-May 10 at 6 p.m. for a free dinner (donations accepted) and at 7 p.m. for classes and activities for all ages. The three classes for adults for the fall semester are 8 Weeks in Romans 8, Surprise the World, and UNexpert Witness: Real People, Real Stories on Marriage, as well as GriefShare and small groups for single moms. Learn more here.
Precept Upon Precept Bible Study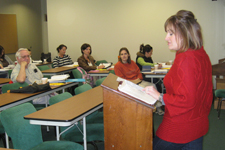 With this intuitive style of Bible study, you learn directly from the Bible using a series of thought-provoking guides. Contact the church office for more information. Precepts meets on Wednesday mornings at 9:30 a.m.
The Tribe
A community of intergenerational women coming together to break down walls and build relationships. Join us Thursday mornings or evenings at 9 a.m. or 7 p.m. Learn more here.

Small Groups


For information about joining an adult small group, contact Cindy Johnston.
For information about joining a youth small group, contact Nick Robinson.