God has blessed First Church with talented musicians and artists who love Jesus and have committed themselves to faithfully offer their music and art in service to him. We see regular expressions of that in our corporate worship services on Sunday mornings. God has also given us amazing opportunities to serve him in our community and overseas. We've recently had teams travel to Romania and Cambodia to lead and sing in the local languages.
In our corporate worship services at First Church, we regularly incorporate both historically recognized and also newly emerging styles of music alongside other expressions, such as visual art and design, that communicate our love for God and His message of salvation.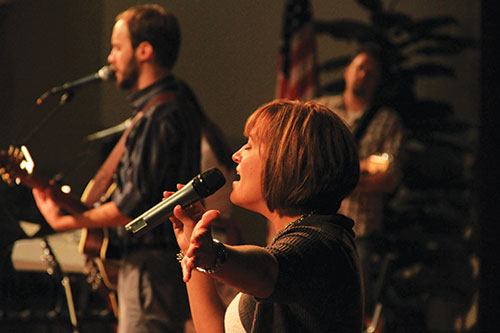 It is worth noting that, as a church family, we've made a deliberate choice to worship together with diverse musical styles rather than in smaller gatherings that cater to particular preferences. The music we use is more than just entertainment, it is part of the way in which we prepare our hearts and minds to encounter and hear God. On any given Sunday, we may be worshiping with music written by J.S. Bach or Antonio Vivaldi, singing the profound lyrics of hymns by Charles Wesley or Isaac Watts or be learning a new song written by a modern songwriter like Chris Tomlin or Joel Houston.
We also believe that God has called us to use visual art and design, dance, poetry readings and drama to communicate the message of his great love and grace that is extended to us to those who believe and those who have not yet heard. You probably won't find all of these expressions in any single service. Instead, you'll find us crafting services to include various elements as God leads our creative and worship planning teams and as he provides members who are called and gifted in the various disciplines.
Whether we're using music and visual arts or poetry and dance, you can always count on one thing - it's always about Jesus. Regardless of the style or form that may be used on any given week, we are committed to creating an atmosphere is engaging, life-giving, and open to all.
Worship Production Team
Another facet of the music and arts ministry is the worship production team. This group's purpose is to create a distraction-free environment for corporate worship and to support the pastor's message. There are always opportunities to train individuals to serve in this area. Contact Lauren Shirley if you are interested.
Live Event Producer
Front of House (FOH) Sound Engineer
Sound Assistant
Lighting Engineer
ProPresenter Operators (for slideshow and video playback)
Set and Lighting Design
Construction and Loading Crew Members
Graphic Designer
Video Editor