If on your first few visits to First United Methodist of Carrollton you get a sense that First Church is a little different from other churches you have visited, your hunch is correct. With more than 100 years of a rich, diverse history, there is a depth and commitment that has left an unmistakable imprint on our faith, our worship, our evangelistic focus, and our missions activities.


It all began in 1901, when 15 Methodists, after meeting under a brush arbor near the corner of Walnut and Jackson St., decided to move their membership to Carrollton, forming what would become First United Methodist Church. Reverend John D. Major, the founding pastor, preached only once a month, since Carrollton was the fifth church on his circuit.
Sunday school was started in the attic of W.H. Stephens' store on the northeast corner of the square in downtown Carrollton.

By 1902, the membership had grown to 54 and Rev. Major used $25 of his own money to purchase 4 lots at the corner of Beltline Rd. & Jackson St. In 1903, the first building – 30 by 50 feet, "with an extra tall steeple" and rounded ceiling – was completed at a cost of $500 under the leadership of Rev. J.D. Simmons of Denton, the new pastor. He came once a month and then "only in good weather," yielding some 6-7 sermons a year.
Because of this, the Sunday school superintendent held a primary role in the life of the church. Among the early superintendents were W.T. Squibb & Arthur Gravley, father of Wilton & Milburn Gravley.

By the mid-1950's, realizing that the church did not have enough room to grow and that the red-brick building was deteriorating, church trustees secured a 5 acre site in the 1800 block on Walnut. Nearly 1/5 of these acres were a gift from Mrs. Pearl Gravley from the Gravley Family Farm.

In 1967, Kenneth Carter was appointed to First Church. His appointment had a significant impact on the church. He helped us to deepen our faith and enriched our evangelism commitments. In October 1983, Dr. Paul Morell was appointed as the new pastor. Because of his interest in missions, our involvement expanded and members were offered opportunities to participate in overseas missions. Since that time, literally hundreds from our church, youth & adults alike, have served the Lord in a multitude of ways around the world.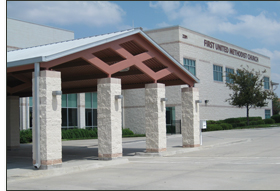 In our 100th year as a church, God began providing for us to move to a new location. We opened the education building in 2002, and the main church building was completed in 2004.
2011 marked the 110th anniversary of First Church, as well at 10 years in ministry here for Dr. Richard Dunagin. Doug Miller was appointed in the summer of 2013, and we are moving forward in exciting ways through his God-ordained leadership!